Aluminum Ramp Installation for Local Massachusetts Agency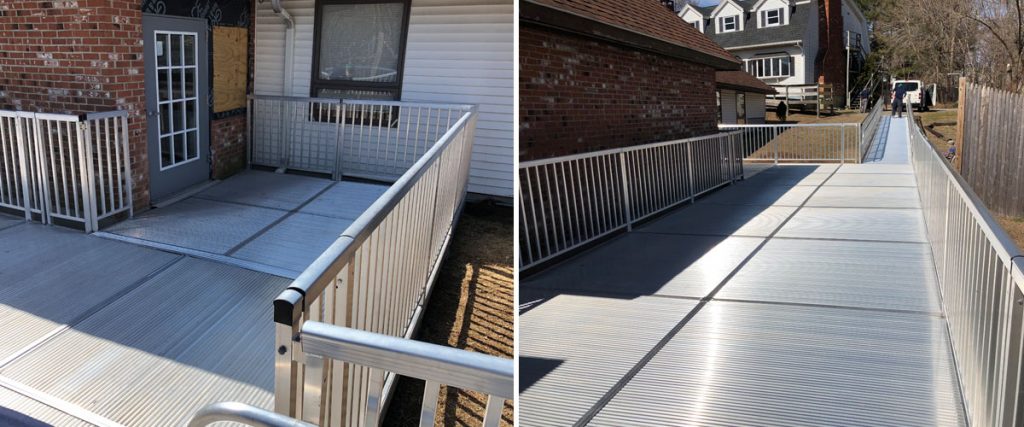 Overview
Our skilled and experienced technicians recently installed a solid deck aluminum modular ramp for Local Massachusetts Agency that provides group housing for adults with mobility issues. Local Massachusetts Agency has named NSM Boston Access branch as their primary supplier.
The Challenge
This housing agency builds homes in residential areas and these homes are usually in need of complete modification to meet the requirements of wheelchair patients. This agency contacted us to build an aluminum ramp for the house they built.
The Solution
For this home, our team built a large aluminum deck that provides egress from two exits and also serves as an outdoor courtyard for residents to enjoy the sunshine and the fresh air. The deck area is approximately 400 square feet, made from commercial ramp platforms. The ramp area is commercial with the required double continuous handrails per Massachusetts code.
We are very proud to partner with local agencies and provide inexpensive design and build services for the group homes. At National Seating & Mobility, we specialize in commercial and custom ramps and decks to make accessibility safe and easy for wheelchair users.
Our team completed the installation in a short time, which made the client happy.
To learn about the accessibility solutions we provide, call us at 888-545-4846!