Clients on the Move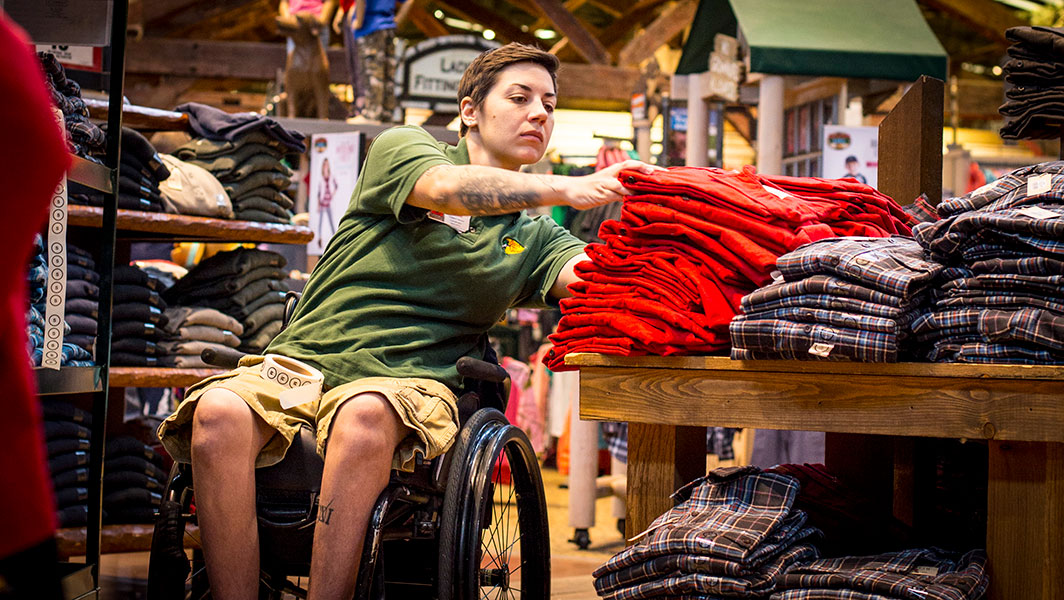 Your story matters to us.
We strive to be more than just a provider of mobility and access solutions. It's our mission to become a trusted team of dedicated professionals, coming alongside you as part of your health and rehabilitation team to help you access every part of your life. We are honored to be a part of your stories. 
Read just a few of our customers' stories below to learn more about how we support you with high quality products and exceptional service.
Client Testimonials
"We really enjoyed Randy, he is a very caring man. Treated me like family instead of just a client. Thanks Randy!"
-LM, Chattanooga TN
"Dan was was prompt, clean, friendly, got the job done in a timely manner, and explained what was done and what to do if there is a problem. Very pleased!!"
-MH, Lansing MI
"Chris is outstanding in his professionalism, knowledge, respectfulness, understanding, and friendliness. He was invaluable in demonstrating what my son's wheelchair can do."
-WH, Reading PA
"National Seating and Mobility is very helpful for when we need them to answer any questions about the equipment. They take the time to explain, work with appointments that are convenient, and help my child and his caregiver."
-XC, Billings MT
"The two guys that helped modify my son's chair went way above and beyond the call of duty. They were very knowledgeable and helped him. We feel very blessed to have met both."
-BC, Columbus OH
"Steven was exceptionally professional, helpful, courteous, and very knowledgeable regarding the equipment."
-RC, Phoenix AZ
"Eugene that brought my parts was very nice, respectful and went into detail with telling me about the items he brought me, especially the cushion and the benefits of it over the one they were replacing. I was very happy with my experience with him and even told him I hope that he and Dale were the ones I would be dealing with from here on out. 2 great company employees National Seating and Mobility have in Dale and Eugene."
-KC, Lexington KY
"David was wonderful through the entire process. I never felt rushed or unsure about how something was going to work. He also remembered me from about 9 years ago and that was helpful too. He works with all of my quirks and made the power chair fit me not the other way, which is huge! A sign of a man that truly understands and sympathizes with the person he is helping."
-MD, Naperville IL
"Charles is awesome – very knowledgeable, kind & considerate. He has worked with our daughter many times and knows her needs & personality – he's great!"
-KB, Anaheim CA
"Tim was our first point of contact when ordering a chair for my mom, he was very knowledgeable and spent time helping us make decisions about the best wheelchair for my mother. He was informative and so helpful. Javier was our technician that delivered her wheelchair, he was very professional and knowledgeable and thorough in explaining the wheelchair to her. She is so happy with her new chair and said it was so comfortable that it made her cry. She recently had a total leg amputation due to cancer and has had difficulty getting comfortable. She spent 4 hours in her new chair and it has helped her mood and motivation. We could not be happier with the experience and product from National Seating and Mobility. You have wonderful and caring employees!! Thank you for making my mom's life better."
-GJ
"I really like the way that they keep my power chair in good working conditions and I wanna give thanks to Angelica for the way that she helps take care of my needs when I'm there."
-EL, San Jose CA
"Tim's smile and professional manner calmed me immediately. I was given excellent service. He not only fixed what was wrong, but he also found another problem I was not aware of. How awesome is that? You need more like him."
-EC, San Jose CA
"The people at the Pelham office have always been very helpful with all equipment from them and even repair on equipment from other agencies."
-NH, Birmingham AL
"This was an emergency repair of my wheelchair while on vacation in New Orleans. The New Orleans NSM office & repair tech were outstanding (Marcel & Jerome)!"
-AF, New Orleans LA
"The supplier Mr. Tracey Ashley was friendly, courteous and was excellent informing us on the use of the equipment delivered. We will recommend him for sure!"
-JR, Atlanta GA
"Rusty was very experienced & patient in replacing new parts & readjusting for maximum, effective seating & headrest components."
-JW, San Leandro CA
"Rudy was great. He took the time to make sure all the parts of the wheelchair were adjusted correctly for me. He was very kind and efficient."
-RC, Arlington TX
"Mike knows alternative solutions that are available and is great at solving problems. My footrest would always break but Mike came up with a solution to correct the problem!"
-ML, San Diego CA
"I am so glad I switched to National Seating & Mobility! The staff is excellent!"
-MP, Charleston WV
"The staff was very friendly and helpful any time I talked with them. John, the technician, recommended a product I never even knew existed, and it has made a huge difference in how I get in and out of my wheelchair. He was also very helpful in explaining how things were operating on my wheelchair. I highly recommend this business."
-MP, Atlanta GA
"I have only had her chair a few days, yet have already recommended National Seating and Mobility to other parents! Such a pleasure working with this company!"
-HH, Mobile AL
"Mr. Efrain is an exceptional technician and an asset to my child's experience with his assistance on all equipment we have received from you."
-MH, McAllen TX
"The lady I spoke with was most helpful and pleasant. I will definitely call again with any needs. The chair was delivered promptly – more quickly than I had even hoped for! The delivery person was very polite & professional. I had tried to contact other places left unreturned messages – ONE call to NSM & I had my chair the same day!"
-KB, Charlotte NC
"All NSM staff are respectful, competent and responsive. Excellent service and skilled technical support. Jim, Carletta and Barbara are outstanding representatives of your company."
-GS, Atlanta GA
"Kevin was great! He did a great job of assessing my chair and making sure my chair was safe and functional. He worked quickly to get my parts ordered and the processing team did a great job of getting back the authorizations. Kevin got back out quickly to get my parts put on. Every experience I have had with Kevin has been exceptional!"
-KJ, Austin TX
"The power switch on my power chair broke while I was shopping. I was only 10 minutes from their office. I called them & they had me come right over & got it temporarily fixed. A new one was ordered. A week later, the new one was on & working like new."
-PH, Austin TX
"NSM is top notch. Everyone we dealt with was really helpful, courteous, thoughtful. Great people."
-MW, Macon GA
"Thank you for the kind, caring staff in repairing my wheelchair promptly, accurately, and efficiently. The company obviously understands my needs as a wheelchair user. I was kept in the loop at all times as to the progress of my wheelchair repairs and the technician worked to get my wheelchair to me as quickly as possible, even through the Christmas holidays. I felt like they made me a first priority!"
-VT, Bakersfield CA
"NSM made special arrangements for us to pick up equipment in a location closer to our home cutting down on a lengthier, more difficult and costlier trip."
-JJ, Wichita KS
"I was discharged from hospital in the morning and had my walker by noon. The delivery person made a few adjustments and I was ready to go."
-RR, Lafayette
"We have worked with Todd for over a decade. His knowledge, expertise and caring attitude are outstanding"
-ES, Champaign
"I have NEVER had a supplier who worked so hard to make sure my wheelchair was a perfect fit. Tracey Ashley was SO knowledgeable. He explained usage, charging, EVERYTHING."
-JLS, Atlanta
"I can always call and explain to the technician what was going on with my chair. They promptly call me back. They are extremely knowledgeable about my power wheelchair."
-DR, Chicago South
"Kathy explained with great detail all the options I had when ordering my wheelchair and it was a great fit for me."
-KT, Missouri
"Marlin is a wonderful representative for your company. I felt like he had my best interest at heart."
-RJ, California
"I wish that other companies would treat me with the respect and courtesy your company has. No complaints."
-JB, Tennessee
"My chair is perfectly suited to my needs. I would recommend your service to anyone. It was a great experience."
-DR, Kansas